House Concert - Thom Shepherd, Wynn Varble an
"House Concerts - It's All About the Music"

March 27, 2010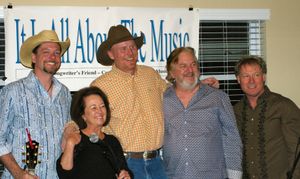 Thom Shepherd, Wanda Seay, Wynn Varble, Terry Seay and Danny Wells
This past Saturday night (March 27, 2010), the living room of Terry and Wanda Seay's home was packed with some of Nashville's most extraordinary talents, along with a lively audience of personal songwriter friends. This is not the first time the Seay's have hosted a private "hit maker" songwriting event in their home and it will certainly not be the last. Upon attending my first "Living Room Round," I would personally like to challenge anyone to find a more exciting and personable event than one such as this. Anyone who appreciates country music and the songwriting talents behind all that is played on the radio would have found their own self to be awestruck. The night contained a great assortment of food, drinks, along with the presenting of a cake to Wynn Varble for his recent #1 hit for Easton Corbin "A Little More Country Than That."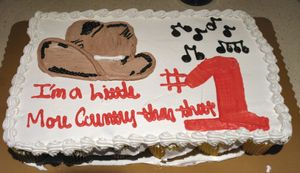 Wynn's song goes #1 the week he plays at our house



As soon as the round began, it was obvious that it was going to be a night of foot tapping, singing along, humorous, and heartfelt emotions all wrapped into one. Not only are Wynn Varble, Thom Shepherd and Danny Wells among Nashville's finest songwriters, they are also incredibly funny, quick witted and great performers.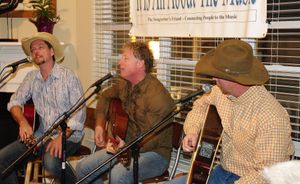 Talented Singer/Songwriter Megan Linville also sat in bringing the audience more incredible music to balance out the night. It was a night of clapping, laughing and all who was present simply taking it all in. When listening to the creativity and the stories behind the songs, it is not a wonder that these three songwriters have been as successful as they are.

Wynn Varble: Wynn who taught himself guitar when he was 15, believes he was destined for a career in country music. From forming a Bluegrass band to playing in the club circuit, Wynn was able to find and perfect his style as a singer/songwriter. In 1992 Wynn made the permanent move to Nashville and was soon signed to Starstruck Writer's Group. Starstruck was later sold to Warner/Chappell music and Wynn joined their writing staff. As aforementioned, Wynn is currently enjoying Easton Corbin's "A Little More Country than That" having reached the number one spot. In addition to his current number one, he is also the writer of two other number ones: "Have You Forgotten with Darryl Worley" (nominated for Song of the Year by the CMA Awards). Wynn is also the writer of Brad Paisley's "Waitin on a Woman" which received the Video of the Year award. Another Darryl Worley song that has done quite well for Wynn is "Sounds like Life." In addition, Wynn's songs have been recorded by a diverse group of country's best artists: Garth Brooks, Lee Ann Womack, Brad Paisley, Darryl Worley, Montgomery Gentry, Jason Sellers, Gary Allan, Trace Adkins, Clint Daniels, Kevin Denney, Tracy Byrd, The Kinleys, Chris LeDoux, Danni Leigh, Mark Chesnutt, and Sammy Kershaw. Wynn was also NSAI's Songwriter of the Year for 2009.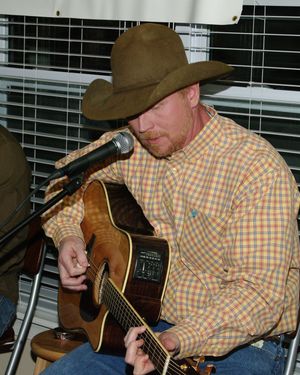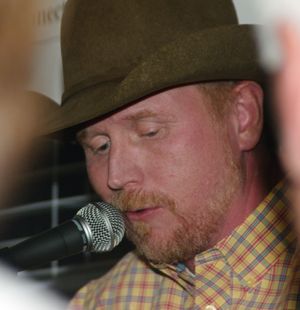 Thom Shepherd: Thom has enjoyed over sixty cuts with a diverse group of artists ranging from Colt Ford, George Jones, Kevin Fowler, Trailer Choir, Montgomery Gentry, Buddy Jewell, Bucky Covington (new single) and Cledus T. Judd since beginning his songwriting career. He wrote the title track for Tracy Lawrence's Grammy nominated album "The Rock," along with having his song "Bad Luck" featured on American Idol. Within his numerous recordings, he has also scored two # 1 hits. Shepherd is the writer of Craig Morgan's "Redneck Yacht Club," and David Ball's "Private Malone." Interestingly, Thom actually played the title role in Ball's video. Alongside being one of Nashville's most prolific writers, Thom has been on eight tours for Armed Forces Entertainment, performing for servicemen and women in fourteen different countries. Thom is also a two-time cancer survivor and father of two. In addition, he is the co-owner of a publishing venture called "The Bourbon Street Music Company," along with the co-president of www.RedneckYachtClub.com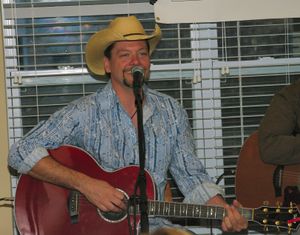 Danny Wells: Danny shared his musical journey with the audience and it is very clear that his extraordinary talent, perseverance and persistence have really paid off. From working in the music business fresh out of college, to song plugging, to sales, to working as a marketing manager, Danny has certainly experienced a wide variety of occupational spectrums. January of 1992 he made the permanent move to Nashville to continue to pursue his ultimate passion: songwriting. In his prolific songwriting catalog, you will find George Strait's #1 hit "Check Yes or No." Not only did "Check Yes or No" stay on the as a number one hit for weeks, but it also received 1996 ACM Single of the Year, and Video of the Year and a numerous amount of other noteworthy awards. Danny has enjoyed three hits with Rascal Flatts alone: "These Days, "This Everyday Love," and "While You Loved Me." Danny's other hits include Collin Raye's "Couldn't Last a Moment," John Michael Montgomery's "Hello L-O-V-E," and Craig Morgan's "A Little Bit of Life." Among Danny's numerous cuts include JoDee Messina, Sara Evans, Tracy Byrd, James Bonamy, Chris Young, Julie Roberts, Wade Hayes, and Confederate Railroad.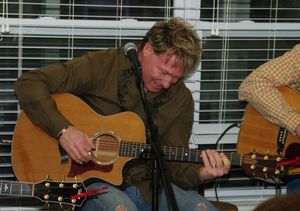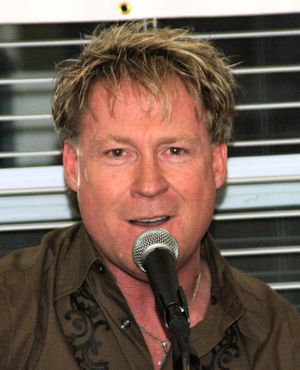 The main songwriter portion is usually followed by an open mic session in which other songwriters in attendance can share some of their music as well. With incredibly talented lineups and state of the art sound equipment, it comes as no surprise that these monthly events are selling out and being well received by the songwriting community. In fact, the April 10th event is already completely sold out. Others who have committed to play in future living room rounds @ the Seay residence include some of Nashville's hottest songwriting sensations: Kent Blazy, Cory Batten, Marv Green, Shane McAnnally, Georgia Middlemen, Dave Berg, Raul Malo, Tom Hambridge, Bob DiPiero, David Bradley, Nashville Songbirds and more.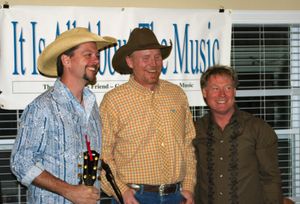 Kudos to Terry and Wanda Seay, all who assisted to make this spectacular event possible and of course the hit makers for bringing fans everywhere the musical understanding of everyday life. "Keep em comin and we'll keep on listenin!"