www.tonyarata.com

Tony Arata sings - "The Dance"


www.youtube.com/watch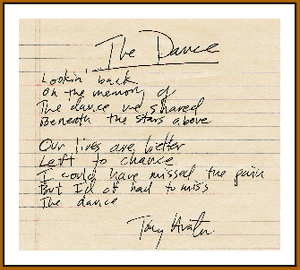 TO ME, THE "KING OF SOUL" IN COUNTRY MUSIC IS GEORGE JONES. THE "KING OF SOUL" IN SONGWRITING, TO ME, IN THIS TOWN, HAS TO BE TONY ARATA. HE'S A CAT WHO DOESN'T CARE ABOUT OUTWARD APPEARANCE. HE DOESN'T CARE ABOUT MONEY. HE CARES ABOUT HIS CHILDREN, HIS WIFE AND HIS MUSIC. THAT'S NEAT.
- Garth Brooks

Tony Arata was born and raised in Savannah, Georgia. While studying for a journalism debree at Georgia Southern University, he began performing his original songs in local bands. In 1986, he and wife Jaymi moved to Nashville where his unique, soulful style began to get the attention of people like Allen Reynolds and Garth Brooks.
Garth recorded seven of Tony's songs and "The Dance" won song of the year at The Academy of Country Music and received both a CMA and a Grammy nomination, as well as most-performed song in Radio and Records magazine.
He has also had #1 records with "Here I Am" for Patty Loveless, "I'm Holding My Own" for Lee Roy Parnell and "Dreaming With My Eyes Open" for Clay Walker. Other artists who have recorded his songs include Trisha Yearwood, Emmylou Harris, Reba McEntire, Delbert McClinton and Hal Ketchum.