It Is All About The Music" (Another Spectacular House Concert)


April 10, 2010 - Kent Blazy, Marv Green and Shane McAnally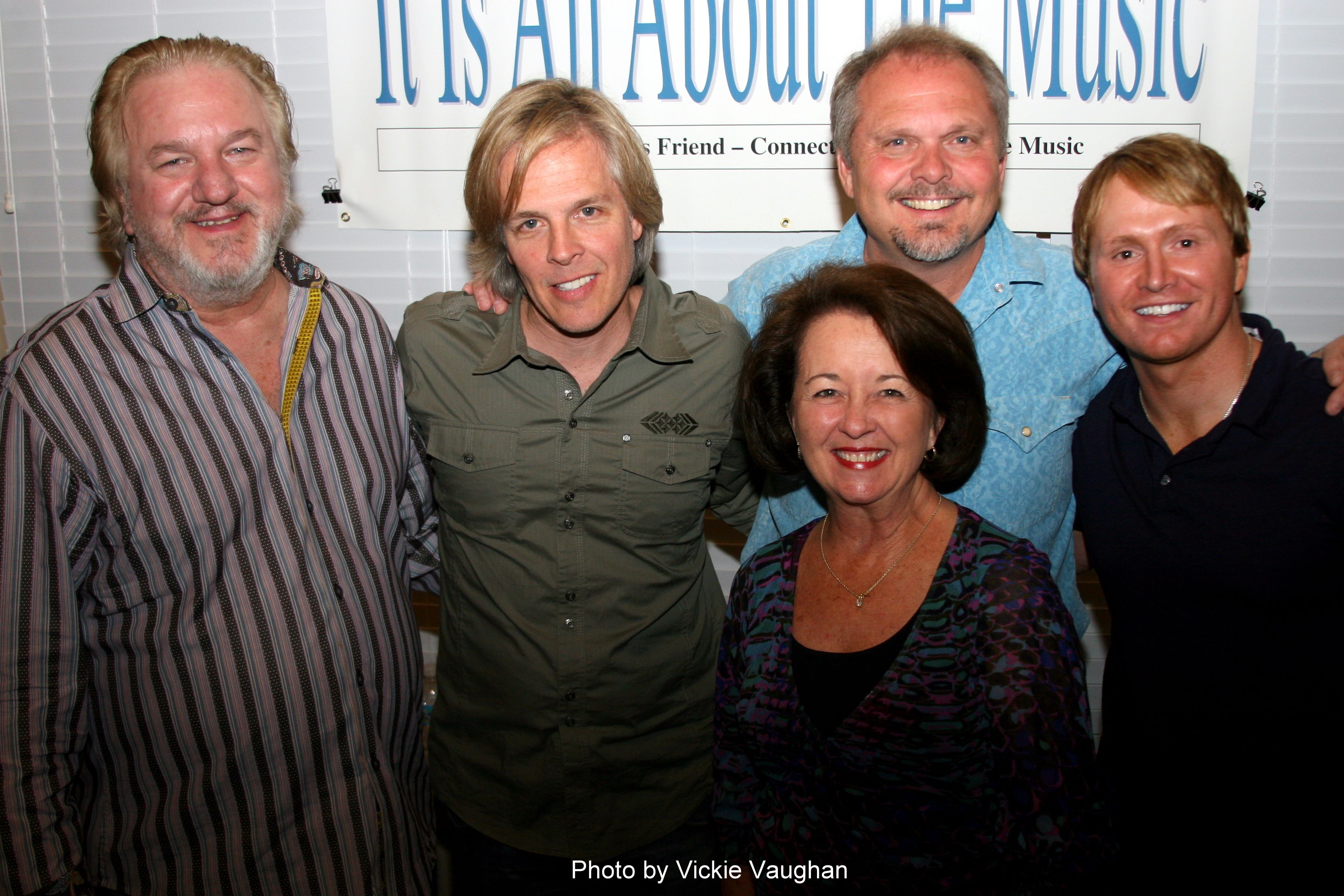 Saturday night (April 10, 2010) I had the priviledge of experiencing another private Living Room Concert featuring Nashville's finest songwriter's in the home of Terry and Wanda Seay. Having attended my first round a couple weeks ago I decided these personable events would become a lasting "must do" priority in my planner. Based on my previous experience, I came to this one with great expectations and most definitely had them fulfilled once again. Living room concerts at the Seay's are always known to contain a great assortment of food, drinks, talent, and state of the art sound equipment. This Saturday was certainly no exception.


Prior to the round, talented violinist Forest Miller, who is one of the most incredible young musicians I have run across in a long time, opened the evening. Not surprisingly, the night continued on a very strong note as hit songwriter's Marv Green, Kent Blazy, and Shane McAnally took front and center. With an impressive resume of hits for each writer, it is not a wonder that this was a sold out event containing a crowd of 50 plus causing the lively living room to be packed elbow to elbow. All eyes were on the performers as they sang some of the most popular, emotional, humorous, and influential songs in country music history that continue to be the true example of songwriting longevity.


Marv Green: Published by Warner Chappell, Marv is one of Nashville's most recorded songwriters. His journey of number ones began in 1998 with George Strait recording "True." Not only has he experienced a great deal of hits from a wide range of artists, he is "amazingly" the writer of Lonestar's hit "Amazed" which spent a record breaking eight weeks at number one on Billboard. He was honored with the BMI Songwriter of the Year Award in 2000, as well as in 2001. He also received the ACM Song of Year for this song as well as a Grammy nomination. His third number one song came from King George yet again with "It Just Comes Natural." Carrie Underwood helped Marv deliver a number one with "Wasted," and Brooks and Dunn assisted in bringing him a top 5 with "Proud of the House We Built." Marv very recently enjoyed yet another number one party with Reba McEntire's successful recording of "Consider Me Gone." Interestingly, this singing sensation experienced the biggest song of her career with this particularly clever tune that Marv penned. Marv is also the writer of Trent Willmon's hit "On Again Off Again," as well as a co-writer on Jewel's hit "Stronger Woman." In addition the already mentioned hits, Marv has also had songs recorded with Faith Hill, Tim McGraw, Kenny Chesney, Andy Griggs, Mark Chesnutt, Jo Dee Messina, Lee Ann Womack, Bon Jovi, Sara Evans, Martina McBride, Jimmy Wayne, Jessica Andrews, Kellie Pickler, Brad Paisley, Trisha Yearwood, and Joe Diffie. He is also the co-writer of Danny Gokey's fast rising single "My Best Days Are Ahead Of Me." It is safe to say that Marv is one of Nashville's consistently recorded songwriters and will undoubtedly be enjoying more number ones in the future.


Kent Blazy: Just two years after moving to Music City USA, prolific songwriter Kent already had a top five hit on his hands. Gary Morris had recorded "Headed for a Heartache" and this accomplishment proved to be only the beginning of what would be to come. Kent's successful songwriting continued with cuts on the albums of The Forrester Sisters, T. Graham Brown, Donna Fargo and Moe Bandy. Kent eventually opened a home recording studio and was introduced to some of the new demo singers and songwriters at the time. Country stars such as Randy Travis, Billy Dean, Trisha Yearwood, Joe Diffie, and Martina McBride were along were among those that Kent befriended through this service. In 1987, before Garth Brooks was known as one of country music's biggest superstars of all time, Kent met with him originally thinking he would simply sing demos for him. However the turning point came when he was told that Garth also songwrites a little. The team co-wrote "If Tomorrow Never Comes." This particular song began the first number one hit for both Kent and Garth. It would make perfect sense that Garth would continue to record Kent's material. Songs recorded by Garth such as "Aint Goin' Down (Til the Sun Comes Up), "It's Midnight Cinderella," "She's Gonna Make It," and "Somewhere Other Than the Night" were all penned by Blazy. It is clear that he was truly a driving force and had a helping hand in the career of Garth Brooks. Amazingly, he has a song on all but one of Garth's albums. Even Garth's newest CD contains a tune written by Blazy. Alongside fellow songwriter Pat Alger, Kent was the co-producer of a tribute CD dedicated to Garth Brooks. In addition, "If Tomorrow Never Comes" wound up being released in Europe, Japan, Australia and the United Kingdom by an Irish artist, Ronan Keating resulting in this song becoming a number one hit in many countries. Kent's songwriting has only continued from there. He has also enjoyed cuts with Diamond Rio, Kenny Chesney, Terri Clark, Blaine Larson, Clay Walker, Patty Loveless, Julie Roberts and Andy Griggs. Most recently he has celebrated another number with Chris Young for "Getting You Home" (the black dress song). Alongside Marv Green, Kent is the co-writer of Danny Gokey's "Best Days Are Ahead of Me" song. My guess is Marv and Kent are about to enjoy yet another number one party for this inspiring tune that entails an hopeful story.


Shane McAnally: Shane signed to Curb Records in 1999. He released a self titled album that brought him three singles on the Billboards Hot Country Singles and tracks charts. "Are Your Eyes Still Blue" reached #31, while "Say Anything" and "Runaway" both found a place in the top 50. Since 2005 Shane has been writing and performing under the name Shane Mack. He has very recently enjoyed some major success with Lee Ann Womack recording his heartfelt tune "Last Call." "Last Call" is an incredible song bringing forth a very honest concept that country music fans understand and relate to. This song has proven to be a very successful song for Womack's career. Shane's songwriting seems to be on the fast track as Kenny Chesney and Jake Owen have both recently cut his songs. Listen up catchy tunes entitled "Somewhere With You" and "You Don't Know Jack." Shane also performed some of his other creations such as "That's What Country Is," and "Wreckage." Overall, he brought a great variety showcasing his versatility as a writer that will prove to be very beneficial for the continued successful songwriter future that lies ahead for him.

To conclude another entertaining living room round, talented singer songwriters Mason Douglas, Joe Hash from Toronto, Bruce Michael Miller (Forest's father) and Bob Algie performed some of their own creative material ending the night on a very impressive note. Bruce Michael Miller sent chills through the crowd performing a song called "Miracles" which is a true story about a young man that was killed in an accident in Florida. His mother found a single flower growing in the backyard that never grows in Florida. The next day she noticed the flower was encircled with five more flowers as she received a phone call that her son's organs had been donated to five people. The very moving song serves as a reminder that "Coincidence is just God's way of remaining anonymous."

Guests enjoyed visiting with one another and of course personally connecting with the songwriters. CDs were selling and cameras were flashing proving to be yet another successful concert. These living room events in the Seay home are only getting started and after a short recess for a few months, the rounds will be returning with a larger stage area. The A class entertainment will continue as more of country music's finest songwriters are already scheduled to perform. Thank you and congratulations to Terry and Wanda Seay for hosting yet another top notch event that all the guests will be sure to remember. Also, a special thank you to the songwriters for sharing their personal material that is a true reflection of who they are and taking the time to know those who truly appreciate their music. Stay tuned for more exciting events to take place in the Seay household. Needless to say, your Nashville Local Music Examiner now wants to attend all of them!