December 2010 Songwriter Open House - Benefit
Christmas Songwriter Open House Benefit for Flood Relief (Hosted By Terry & Wanda Seay)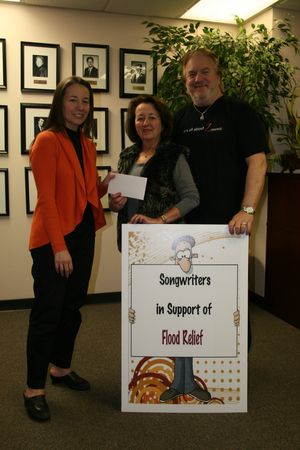 At the beginning of May 2010, Music City USA experienced over 13 inches of rain in a two-hour period. The flood was unquestionably deemed as the worst disaster in Nashville history. It wasn't so much of a question of which residents were affected by this disaster, but more so which of our residents were not. The flood waters destroyed countless homes and businesses robbing so many of their shelters and livelihoods. Thankfully Nashville residents and our outside neighbors stood up to pitch in and give a helping hand wherever it was needed. If there was ever a time in which Tennessee truly lived up to their title of the "Volunteer State," it was during this time. Volunteers rolled up their sleeves, got on their hands and knees helping people they had never even met until that moment. Others chose to also donate generous monetary gifts to organizations such as the Red Cross, Second Harvest Food Bank, The Community Foundation of Middle Tennessee and more.While the floodwaters have long ago subsided, a strong need for restoration and assistance still remain.

Generous Middle Tennessee residents and music community supporters, Terry and Wanda Seay, recognized this need. They graciously opened the doors of their home on Saturday, December 18th, hosting a Christmas Songwriter Open House Flood Benefit offering hospitality to 78 guests and featuring 36 songwriters and musicians for over nine hours of non-stop music raising an impressive total of $4,219.87 for the Community Foundation of Middle Tennessee.
 


An autographed guitar signed by numerous hit songwriters was also auctioned off to contribute to flood relief funds.
 




The energy was high as guests enjoyed the music and songwriters presented their original material. As always, new friendships were made and guests and writers alike enjoyed the variety of delicious food available in the Seay's kitchen. It was clear how honored and humbled each and every guest and performer was to be a part of this special event.
This non-stop foot-tapping lineup was as follows:

2:00 Bob Algie (Nashville Songwriter & Veteran) along with Country Duo (Kiss & English – Amanda Kiss & Scott English). The always-inspiring Algie warmed the hearts of guests with his broad songwriting catalog dedicating a tune to our troops and getting guests into the Christmas spirit right off the bat. Kiss & English brought listeners catchy tunes and fun, original music.

3:00: "The Least Of Your Worries" – Sam Hunter – Guitar, Forest Miller – Bass, and Austin Valentine – Drums. This young band locked in all houseguests with their undeniable talent and positive disposition in which they performed their original music showcasing their range and musical versatility. With a touch of the Beatles, vintage, general R & B and a modern sound all their own, they have a musical gift and a musical understanding that goes way beyond their years.




4:00 "Nashville Songbirds" – Anyone who knows the songbirds knows they always bring a rockin, energetic show full of crowd involvement. Bridgette Tatum (Jason Aldean - She's Country), Kirsti Manna (Blake Shelton's Austin) and the talented Julie Forester and Lorna Flowers entertained listerners with their always-incredible originals.





5:00 "4 Empty Chairs" played next featuring Jessica Rae, Greg Friia, Pete Sallis & David Bradley. This lively round has collectively had cuts with Bucky Covington, Lonestar, Brady Seals, George Canyon, LoCash Cowboys, Jason Michael Carroll, Rodney Atkins and Ronnie Dunn.





6:00 "Phillybilly" with Kacey Jones, Rich Fagan & Joe Collins were next. This humorous yet unmistakedly talented group collectively have scored cuts with John Michael Montgomery, Shania Twain, George Strait, George Jones, Hank Williams Jr, Neil Diamond, David Allen Coe, Cledus T. Judd and many more.





7:00 Mason Douglas (Debut album "My Wild Heart"), Steven Demetrious (Canadian Songwriter featured in Tin Pan North 2010), Lainey Edwards (Debut "Lucky Girl") & Greg Pope (Nashville songwriter) followed.





Jaclyn North (recent Texaco Country Showdown Artist Winner) who made a spot appearance also gave an unforgettably crowd pleasing performance.





8:00 – Kent Blazy & the Four Peace Band with Cory Batten, Scott VanZant, Mike Fleener and Steve Bryant. Kent who has had numerous cuts has enjoyed hearing his songs sung by Garth Brooks, Danny Gokey, Chris Young and many others. Cory Batten who co-wrote Chris Young's "Getting You Home" with Kent also performed his Blake Shelton hit, "She Wouldn't Be Gone." The always-rocking Four Peace Band entertained listeners bringing them yet another extraordinary show.




9:00 The night ended on a great note as the final round consisted of Tony Arata (Garth Brooks "The Dance"), along with Bruce Michael Miller (Nashville Singer/Songwriter), Joe Hash (Canadian Singer/songwriter) & Thom Shepherd (Redneck Yacht Club).





Special announcements and thank yous were also taking place throughout the day. It was clear that the Christmas spirit and the power of music were alive and well as Terry and Wanda made these announcements and invited several people to join them up front and center stage. A particularly touching moment was when Terry thanked Wanda and reminded her of his love for her and presented her with a special new diamond. 

 





Susan Greene and Doak Turner who are truly some of the most supportive and influential driving forces in the Nashville songwriting community also spoke. Terry notably presented them with "Lifetime Passes" to their house concerts.
 




Mark Woods (CEO of Operation Troop Aid was also on hand to present bracelets and to speak about this very important organization that has a mission of providing care packages for deployed US service members with revenue generated through professional concert promotions and public financial generosity.





While each and every one of the Seay's house concerts always prove to be an unforgettable show, this particular concert touched countless lives because of the generosity of the Seay's, the songwriters and the house guests. There was great music for a great cause that resulted in a great time for all, serving as a reminder of the reason for the season. Now that it is a new year, you will certainly want to stay tuned as the Seay's house concerts are just getting started. More of Nashville's finest are being booked for 2011 and house concertgoers are waiting in anticipation because as always…the possibilities are endless. GAC-TV Headline Country with Storme Warren recently filed one of these events, so watch for an upcoming episode.